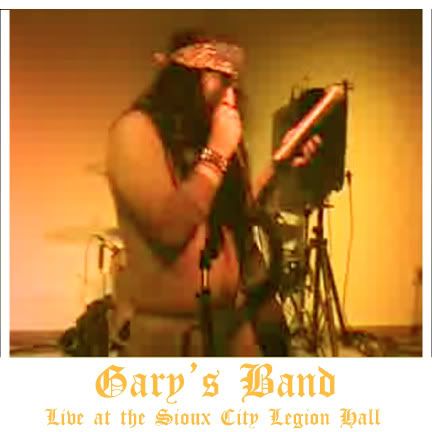 Download:
Gary's Band "Live at the Sioux City Legion Hall"
For quite some time in Sioux City the American Legion Hall was the place where all of the punk shows happened. It seemed like every night, if there was a show going on, you could drive down there early to find one man there before all of the rest.
Gary would sit out in front of the legion hall with his tattered notebook of lyrics and his acoustic guitar, waiting in anticipation for the show to start and for that nights performance of Gary's Band.
Gary's Band is a time honored tradition in Sioux City. The band would always play first in order to get things rolling and set the tone for the evening. The music and even the band itself was never the same thing twice. It would be Gary on vocals, with or without his acoustic guitar, singing from his book of music. They were his songs of love and pain.
This particular night was one where Meth and Goats were playing in Sioux City and the nights Gary's Band line-up ended up being Dennis Hockaday on guitar, Jon Burns on bass, Sioux City Pete on drums, and of course Gary on lead vocals.
This live album is a roaring spectacle of punk, blues, and rock 'n' roll with the poetic prose of Gary Norton. Luckily this performance was caught on tape and existsfor future generations to embrace the love of Gary's Band also known as Motleychrist.
Gary's Band-I could be the one by Deep Cuts Records